The Honda S200 is one of the most iconic roadsters of all time. It's among the rosters of the most loved JDM cars in the 20th century, and there's a really good reason for that.
It's lowered stance, its topless figure, and most of all, it's sheer power and speed are just some of the things to love about this car. Owning one means a dream come true for some car enthusiasts.
Another characteristic to love about the Honda S2000 is its openness for modification. This powerful naturally aspirated car is great on its own, but with a couple of aftermarket modifications like an exhaust system, it truly separates itself from the crowd.
With an aftermarket exhaust system installed on this bad boy, you'll hear a roaring spicy-looking JDM car zooming on the freeway.
Aftermarket exhaust systems are popular modifications fit for any project car. And in the case of the Honda S2000, it'll make it sound so awesome, you're guaranteed to grin from ear to ear once you have one installed on your car.
The style and the power of the Honda S2000 alone are impressive enough, but attaching some of the best-sounding aftermarket exhaust systems on it is kinda overkill – and that's awesome.
Wanna know what are the best sounding exhaust systems exist in the market that is compatible with the Honda S2000? Check out the list below to find out!
#1 Berk Technology Cat-Back Exhaust System
Manufacturer: Berk Technology
Weight: N/A
Part Number: BT1610-AP1
Compatibility: Honda S2000 AP1 (2000-2003)
To start the list of the best Honda S2000 exhausts, we got the Berk Technology Cat-Back exhaust system. No, it's not the island from How To Train Your Dragon, but it does sound like a dragon once it's installed in a Honda S2000.
It's extremely lightweight and is great for people who want to race around and prove that their Honda S2000 is the best car to have.
Berk Technology is a single exit cat-back exhaust system that is composed of 3" stainless piping connected to a 3.5" straight-cut tip. You won't ever have to worry about leaks because a single V-band clamp provides enough sealing without the use of any gasket.
Plus, the Berk Technology exhaust system sounds great too: like a dragon awakened from its long slumber.
#2 Skunk2 MegaPower Exhaust System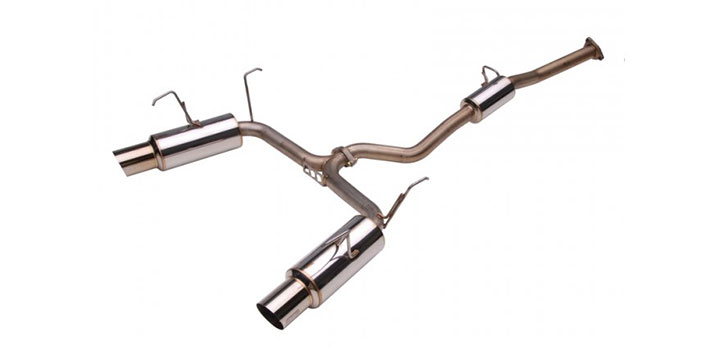 Manufacturer: Skunk2 Racing
Weight: 43.2lbs
Part Number: 413-05-2025
Compatibility: Honda S2000 AP2 (2000-2009)
If it ain't the dragon, then maybe it's the skunk that will grab your attention. Featuring Skunk2 Racing's MegaPower exhaust system for some serious increase in your Honda S2000's power output.
Constructed out of T-304 stainless steel, this exhaust system is made to recreate that N1 style and give the Honda S2000 the extra power it needs to unlock its full potential. And don't forget it's terrific sound too!
The MegaPower exhaust is made to unleash the, well, skunk within the Honda S2000. A powerful skunk, to say the least, because this exhaust system is dyno-proven to put out some serious extra horsepower for the Honda S2000.
It's straight through low-restriction muffler is built for racing and this exhaust sounds pretty good too. It provides a pretty chill but loud enough sound. But if it's still too loud for you, a silencer is included in the package to slightly cut down the skunk's howl.
#3 Invidia N1 Dual-Exit Cat-Back Exhaust System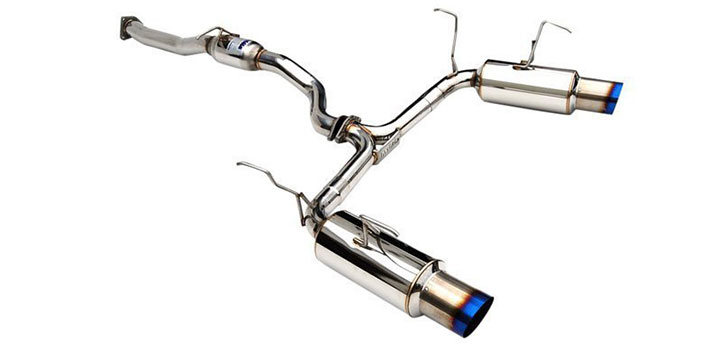 Manufacturer: Invidia
Weight: 42lbs
Part Number: HS00HS1GTT
Compatibility: Honda S2000 AP1 (2000-2008)
If you're a big fan of N1-styled mufflers, then you're in for a treat. Introducing one of the best exhaust for Honda S2000, the Invidia N1 cat-back exhaust system.
This exhaust system is balances affordability and performance and is a great buy for car enthusiasts who wants some dose of extra power and torque while maintaining an aggressive sound output.
Made from SUS304 stainless steel, the N1 cat-back exhaust system promises to deliver a more aggressive tone compared to the stock that car enthusiasts truly enjoy. This exhaust system has pipings mandrel-bent to ensure that there will be maximum exhaust gas flow while having minimum backpressure.
The best thing about this exhaust system is its style and its sound. It's loud enough for people to know that you've arrived, and it looks great enough with its titanium burnt tips.
#4 Yonaka Catback Exhaust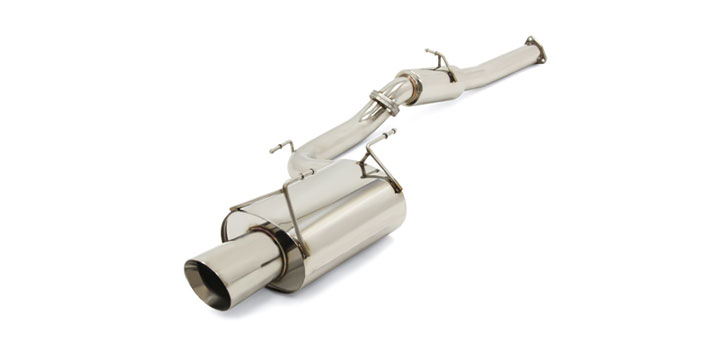 Manufacturer: Yonaka Motorsports
Weight: 29lbs
Part Number: YMCB-S2K
Compatibility: Honda S2000 AP1 & AP2 (2000-2009)
Look, trusting your beloved Honda S2000 to some strangers who offer their "best exhaust Honda S2000" is understandably difficult. That's why we've brought the Honda Specialists: Yonaka Motorsports.
They are adept in making any Honda vehicle from zero to hero, and with their exhaust system solely made for the Honda S2000, there will be no room for skepticism anymore.
Yonaka Motorsports' S2000 exhaust system provides a non-raspy clean and throaty sound without all that annoying mid-range sound. This exhaust system is made out of 3" fully polished stainless steel piping connected to a 5" exhaust tip.
It's fairly easy to install too; it can be directly bolted onto the OEM to fit it in, and all the hardware you're gonna need is included in the package as well.
#5 Invidia N1 Single Rear Exit Cat-Back Exhaust System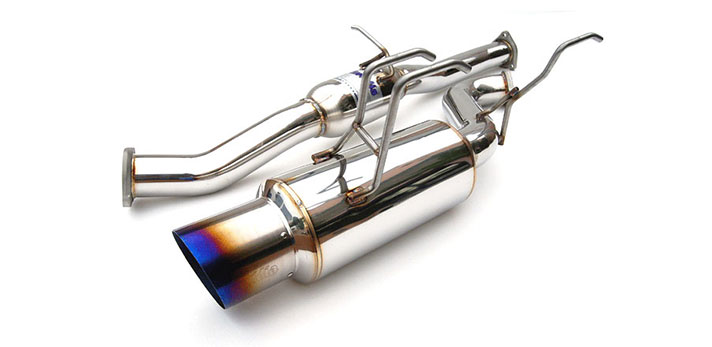 Manufacturer: Invidia
Weight: 33.5lbs
Part Number: HS00HS1GST
Compatibility: Honda S2000 AP1 & AP2 (2000-2009)
You might be wondering: "Wait, another N1 cat-back exhaust system from Invidia! They've just copied two entries!" Well, technically you're wrong. Yes, it's an N1 cat-back exhaust system, but this time, it's a single rear exit.
The previous one is a dual-rear exit, and the difference between the two is pretty self-explanatory.
The two Invidia exhausts in this list offer the same performance benefits. The only difference it one has dual-rear exits while this one has a single-rear exit.
Just like the previous one, it's far louder and produces a more aggressive note than the stock, and there is a significant increase in horsepower and torque output as well once you've successfully attached this exhaust system on a Honda S2000.
#6 HKS Hi-Power Exhaust System
Manufacturer: HKS
Weight: 36lbs
Part Number: 32701-BH001
Compatibility: Honda S2000 AP1 & AP2 (2001-2005)
The HKS Hi-Power exhaust system's makers were inspired by the endurance and GT racing scene in Japan. Fitted for a naturally aspirated car like the Honda S2000, the Hi-Power exhaust system is a great example of what a racing exhaust system would look and sound like.
Its offset mufflers are designed for street application and with its impressively low-restrictive design, the Hi-Power exhaust system provides greater flow and more power during the high RPMs.
Built with SUS304 stainless steel 3" piping that ends on a 4" burnt tip, the Hi-Power exhaust system can produce up to 95.5db of the raw aggressive exhaust sound of an untapped Honda S2000.
It may be pretty loud for some people, that's why you can get an optional silencer for this one. A quick note though: this exhaust system is not street-legal, so use it at your own risk.
#7 MagnaFlow Street Series Cat-Back Performance Exhaust System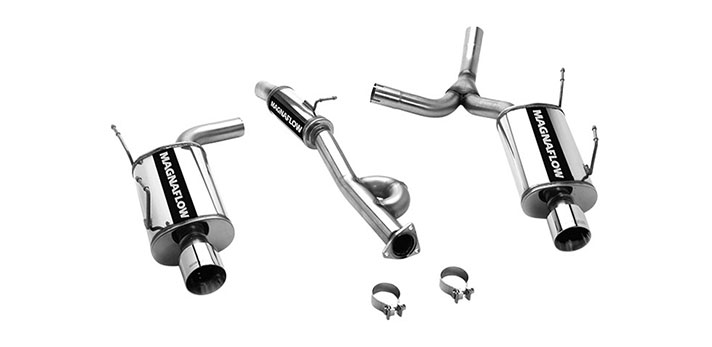 Manufacturer: Magnaflow
Weight: 48lbs
Part Number: 15831
Compatibility: Honda S2000 AP1 & AP2 (2001-2005)
And lastly, we have the most premium exhaust system of them all: the Magnaflow Street Series cat-back exhaust system. It's a performance exhaust built to exemplify the true meaning of a racing-grade Honda S2000 exhaust, and its construction is impressive enough to justify its price.
Yes, it's the priciest exhaust system in the bunch, but it's arguably the Honda S2000's best exhaust sound in this list.
The Street Series is an aftermarket exhaust system that sounds comfortable inside the car and sounds like a proper sports car on a race outside the car. This dual-rear exit exhaust system features a 2.5" tailpipe that ends with two 4" exhaust tips.
It's made from high-quality polished stainless steel and is great for Honda S2000 owners who won't hold back financially just to get the best sounding exhaust on their hands.
Is Getting an Aftermarket Exhaust System Worth It Anyways?
The Honda S2000 is a great platform for most modifications, and getting an aftermarket exhaust system to highlight its sheer naturally-aspirated-produced power is incredibly worth it.
Aftermarket exhaust systems don't just give off an aggressive and throaty sound for people to enjoy, but it also provides some cool benefits like a surplus of horsepower and torque and better mpg.
Almost all manufacturers offer less restrictive exhaust systems which mean exhaust gasses flow out of the car efficiently. And on top of that, aftermarket exhaust systems are oftentimes lighter than the stock.
Weight reduction is a serious factor for some car enthusiasts, especially if they use their car to race or drift.
Aftermarket exhaust systems are a great way to highlight the might of the Japanese iconic roadster, aka the Honda S2000. After all, a car like the Honda S2000 that looks great, sounds greater, and feels the greatest when driving is all that a JDM roadster connoisseur would ask for.