The R35 GTR was a groundbreaking vehicle when Nissan launched it in 2008. Today in 2016 the overall package of the R35 is much less impressive than it once was. However, the VR38DETT that powers it is still increasingly popular amongst 1/2 mile drag racers.
A few performance companies have pushed the VR38DETT to the tune of 2500 horsepower. Before I tell you why the VR38DETT is so amazing, we should first cover some of the engine basics. You can find additional Vr38 info on Wikipedia.
VR38DETT: Engine Basics and Specs
The VR38 was the first of the VR engine family. The VR30 is the other VR in the family and is being used in the Infiniti Q50 sedan. The VR38DETT is a 3.8L twin-turbo V6 with a bunch of nifty features. Here are a few of the features:
Continuously variable valve timing control system (CVTCS) on intake valves
Aluminum cylinder block with high-endurance/low-friction plasma-sprayed bores
Iridium-tipped spark plugs
Electronic drive-by-wire throttle
Pressurized lubrication system with thermostatically controlled cooling and magnesium oil sump
Fully symmetrical dual intake and low back-pressure exhaust system
Secondary air intake system to rapidly heat catalysts to peak cleaning efficiency
50 State LEV2/ULEV
I wish there was more to say about the basics of this engine but there really isn't. Over the years of the VR38's life cycle, it has remained almost entirely unchanged. Horsepower has slowly been increased through different ECU tunes every year the R35 remains in production.
Production: 2007 – Present
Cylinder Block Material: Aluminum
Cylinder Head Material: Aluminum
Valve Train: DOHC 24 valve with CVTCS
Stroke: 88.4mm
Bore: 95.5mm
Compression Ratio: 9.0
Displacement: 3799cc
Redline: 7,000 rpm
Weight: 608 lbs
VR38DETT: Performance Data
This part is quite a bit more interesting than the basics of the engine. How powerful is the VR38DETT? When Nissan launched the R35 GTR in 2008 it came with an impressive 480 horsepower.
But, over the years it has been increased incrementally to a whopping 565 horsepower. The Nismo version came with an insane 600 horsepower.
Not only does it make very impressive horsepower numbers, but impressive torque numbers as well. When the R35 was launched it came with 438 lb-ft of torque, and now has 467 lb-ft.
That is extremely impressive given the small displacement of 3.8L.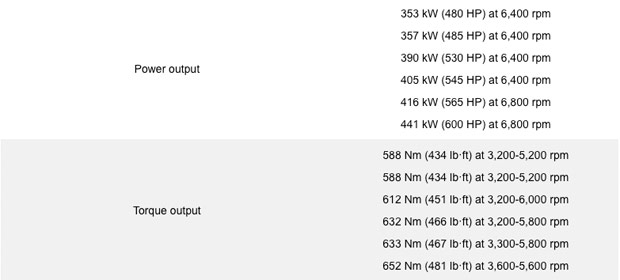 VR38DETT: Tuning Potential
The VR38DETT is a pretty impressive engine straight from the factory, but what can it really do? What is it really capable of? Well, many of the folks who do half mile racing use the R35 GTR platform. The top racers are pushing nearly 2,500 horsepower out of the VR38.
I should mention that those engines have custom cylinder blocks, as well as completely custom engine internals, and don't live all that long. However, it is still insane that the VR38DETT architect can withstand that much horsepower.
RELATED: VQ35DE: Everything You Want to Know
What about the average Joe? If you just wanted a fast street car, a simple E85 conversion with bolt-ons can put a VR38DETT over 600 horsepower very easily. Many R35 "streetcars" are running in excessive of 750 horsepower.
So as far as tune-ability the VR38DETT is one of the best engines in the world. On stock internals, it can handle nearly 1,000 horsepower. I will put a video down below of an R35 GTR at a half mile event.
Towards the end of the event, they turn the power up to 2,000whp, which is about 2,500 horsepower at the crankshaft.
Summary
So overall the VR38DETT is quite an impressive little package. It packs a huge amount of horsepower and torque for such a low displacement engine.
The craziest part is how much power the VR38DETT architect can hold up to. Very few engine in the world can withstand 2500 horsepower for entire race events or even multiple race events.
Let me know what you think of the VR38 in the comments below!