If you've ever looked into Mercedes-Benz, then you'd know that there are a few different models. Mercedes-Benz uses a class structuring system similar to BMW, just with letters to identify the "series" instead of numbers.
So what are these "series"? Mercedes-Benz has quite a few series, but the most common are the C-Class, E-Class, and S-Class. Each different in its own respects. How are they different and which one suits you the best? Let's dive in and compare C-Class vs E-Class.
C-Class
Mercedes-Benz introduced the C-Class in 1993 as a replacement to the much-loved 190E. The 190E was the smallest car available through Mercedes at the time, and it was tremendously successful.
After the success of the 190E, they decided to launch a new series of cars, that would be compact like the 190E. This is how the C-Class was born. The "C" in C-Class rather obviously stands for "Compact".
RELATED: Is Mercedes-Benz Still Beating BMW?
It was essentially a more compact version of the loved E-Class, which had been around for a long period of time. The C-Class was also much more affordable to the average consumer.
To this day the C-Class is one of Mercedes' best-selling cars.
E-Class
Before 1993 there was no E-Class; E just meant that model was fuel injected. After all of their models had become fuel injected, they decided to restructure their model naming system.
This is why the C-Class was born at the same time. The E-Class was designed to be Mercedes' "in-between model". It's not as small as the C-Class, and it's not as giant as the S-Class. The "E" in E-Class stood for "Executive".
RELATED: 4 Reasons The LS400 is The Ultimate Luxury Car
Today in 2016 the E-Class is Mercedes' best-selling model. It offers something for everybody; a fuel efficient diesel, a comfortable luxury car, and a ridiculous twin turbo AMG. It's the jack of all trades.
C-Class vs E-Class: Luxury
One of the drawbacks of the C-Class is its interior. Don't get me wrong, it's way nicer than anything I've ever driven. Even my mother's ML350 isn't as nice as a brand new C-Class. But, the E-Class is even nicer.T
hey both features ton of luxury things like heated steering wheel, and heated seats.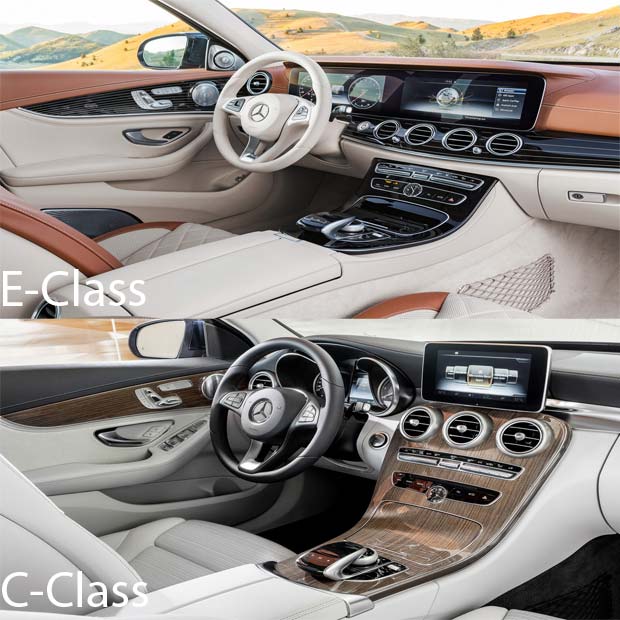 RELATED: BMW E90 vs F30: Which 3-Series is Actually Better?
The new E-Class features something way too cool to top. There are no gauges. There is one large horizontal display. It's both the gauge cluster, and the info/entertainment system.
The E-Class also features a better audio system, nicer leathers, and various other features that aren't available in the C-Class.
Both are incredibly luxurious, but the E-Class is obviously nicer. You get what you pay for after all.
C-Class vs E-Class: Size
Like I said earlier, the C-Class was based on the 190E. The C-Class is designed to be smaller than an E-Class or S-Class. This helps keep cost down, and the average consumer doesn't need a sedan as large as the S-Class.
The larger size of the E-Class is used mostly for increasing rear legroom. This is important if you frequently have adults in the rear of your car, and want them to be comfortable.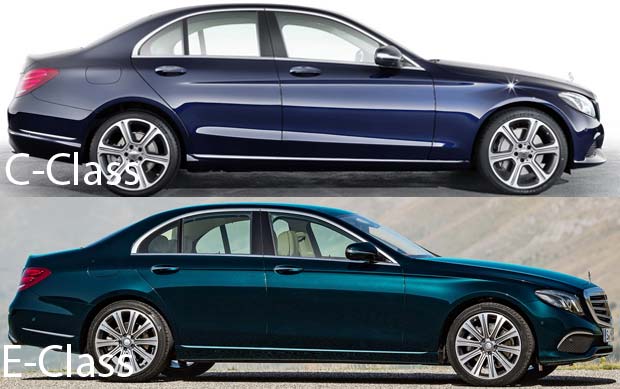 RELATED: BMW 335i vs M3: Is The M3 Really Worth The Money?
As you can see from the photo above, the E-Class has much larger rear doors. From the front doors forwards, they're basically the same in size. The E-Class also has a larger trunk, which is helpful for fitting your golfs bags, because that's what E-Class owners do.
C-Class vs E-Class: Price
Up to this point, we've discussed how the E-Class is both larger and more luxurious than the C-Class. So it should come as no surprise to you that the E-Class is more expensive than a C-Class.
How much more expensive? I hopped on Google and here's what I found; C-Class starts at $42k, E-Class starts at $52K.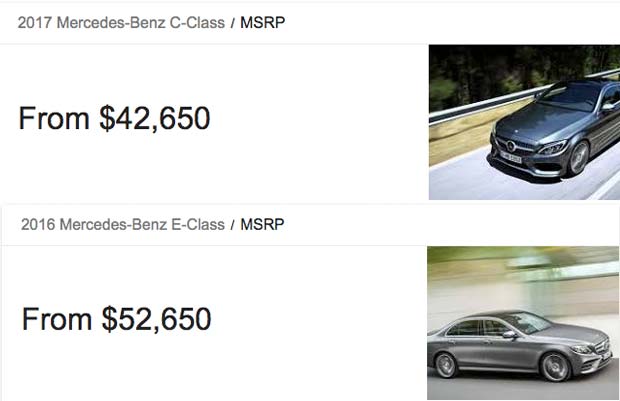 RELATED: 3 Reasons Why The Infiniti Q45 is The Best Luxury Car Ever
That's right, there is a $10k difference between these two. That's quite a lot, but you are getting a lot for that money. For $10k you get a larger trunk, more rear leg room, nicer interior, and more features.
Keep in mind that these prices reflect the base models. You'll likely add $10k+ in options.
C-Class vs E-Class: Powertrain
Both the C-Class and the E-Class come with a host of available engines. For 2017 the E-Class only has one engine, so we'll be looking at the 2016 models to make it fair.
The base C-Class engine is a 2.0L turbo producing 241 horsepower and 273 lb-ft of torque. The horsepower isn't mind boggling, however, the torque is pretty impressive for a 2.0L engine.
The diesel C-Class is also a 2.0L turbo making 190 horsepower and 369 lb-ft of torque. I seriously wish that diesel was more popular in the US because 369 lb-ft of torque sounds like a whole lot of fun to me.
The top of the line AMG model is equipped with a 4.0L twin-turbo V8 produced 469 horsepower.
The base E-Class engine is a 3.5L V6 that produces 302 horsepower 273 lb-ft of torque. For a 3.5L V6 that's actually pretty average, the Mustang's V6 produces 300 horsepower.
The diesel E-Class is a 2.1L turbo that produces 195 horsepower and 369 lb-ft of torque, which is pretty much identical to the C-Class. Top of the line AMG E-Class gets a 5.5L twin-turbo V8 producing a ridiculous 577 horsepower and 590 lb-ft.
Which One is Better?
Which one is better really depends on your pockets. It's pretty obvious that the E-Class is better in nearly every single way. The point of the E-Class and S-Class is to offer more features than its lower model.
Most of us will end up picking the C-Class strictly for financial reasons. If you have the money, get an E-Class.