It seems like every drift event that I attend, or watch online has loads of Nissan S13s. Especially grass roots events like Arizona's "Drift N' Drag". Well, there are quite a few reasons why the S13 chassis is so commonly used in the drifting community, especially by beginners.
Additional 240SX Info on Wikipedia
In this short article we'll cover why it's so common in drifting, and why you might want one of your own.
1. S13 Price
Buying an S13:
Nissan made the S13 from 1989 to 1994, and offered a few body styles; a fastback, a coupe, and a convertible. They produced a lot of S13s, and sold them for cheap too. Because of this, prices for them have dropped down to ridiculously low prices.
Nicer S13s can been bought for around $6,000, and beaters can be bought from $1,000.
Due to the rise of drifting, prices for S13s have gone up, especially for nicer ones. However, the popularity of drifting has also created a lot of S13s that are so beat down that they are only good for beating on the track, and are really cheap to buy.
Aftermarket Prices:
his also applies to parts, since there's a large demand for aftermarket parts for the S13, the prices for the parts have been driven down. Which means you can build one up for drifting on a pretty tight budget.
Professional drifter, Chris Forsberg, bought and built an S13 240SX for $5,000 and took it to a local drift event.
Whether you're on a $1,000 budget or a $10,000 budget, there is an S13 out there with your name on it. Now is the time to get one before prices rise even further. It'll become a Miata situation, where all the good ones end up being turned into track cars, and all the crappy ones become expensive.
2. S13 Weight/Size
Weight: The S13 was a pretty lightweight car from the factory, it's one of its naturally great attributes. It weighs in at about 2,700 lbs stock, with a little bit of weight reduction, it can weigh less than 2,500 lbs. 2,500 lbs is less than a modern Mini Cooper.
If you didn't already know, lightweight cars are at a significant advantage when it comes to handling. The lower weight also allows for quicker side to side transitions while drifting.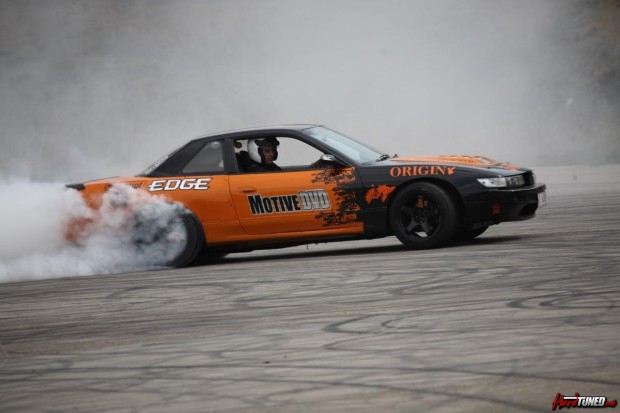 Size: The S13 is a fairly small sports car, especially when compared to modern sports cars. This is really important especially when running tandem drifts with your friends. The S13 is really easy to place where you want.
RELATED: RB26 vs 2JZ: Which One is Actually Better?
The small size also makes it feel much faster than it really is. For example a Mini Cooper really isn't fast at all, but it feels like it is. This isn't at all important for drifting, but it does make the driving experience that much better.
The low weight and small size really help improve the driving experience of the S13 chassis. In 1990 Motortrend called the 240SX "one of the best handling cars on the road". If that's not a testament to how well it the S13 chassis handles, I don't know what is.
3. S13 Chassis Dynamics
Wheelbase: Wheel base is one of the biggest factors of drifting. Short wheelbase vehicles can change directions, and initiate a drift very quickly. But, if it changes directions unexpectedly you have to be fast enough to react.
Long wheelbase vehicles are slow to change directions, making it sluggish to initiate a drift. But, the long wheelbase helps with mid drift stability, which is crucial for learning how to drift.
S13s have a fairly long wheelbase, making it very forgiving and easy to learn on. But the wheelbase isn't so long that it's sluggish to change directions.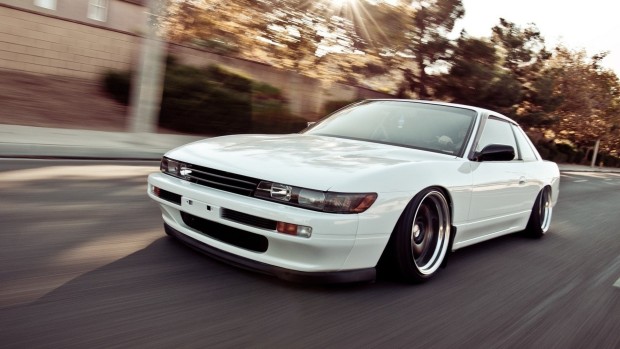 Balance: From the factory, the S13 240SX is a very balanced sports car. Coming in at around a 55/45 weight distribution, it's fairly balanced from front to rear. The dynamics of the chassis itself really caters to "spirited" driving.
RELATED: S13 vs S14: Which One is Actually Better?
The weight balance is also important for drifting. The further back the weight is the further back the rotation point is. For example, the 350Z's rotation point is about where the center console would be on the interior.
The good weight balance of the S13 chassis can help it transition easier mid drift.
These things arguably make the S13 chassis the best chassis to learn how to drift on. They also help make it a championship winning chassis, which is a further testament to its true capabilities.
4. S13 Modifications
Much like Foxbody Mustangs, the S13 chassis is kind of like a lego set, you can make anything you want out of them. Want a drift car? Maybe a street car? What about an autocross beast? You can do all of the above with ease with the S13 chassis.
Body: You have many options to choose from when modifying the body. You can start with a coupe, fastback, or convertible. Kouki headlights/tailight, S13 front end, S14 front end, S15 front end, Silvia conversion. The ever popular body kit, maybe even a wide body kit if you're crazy enough.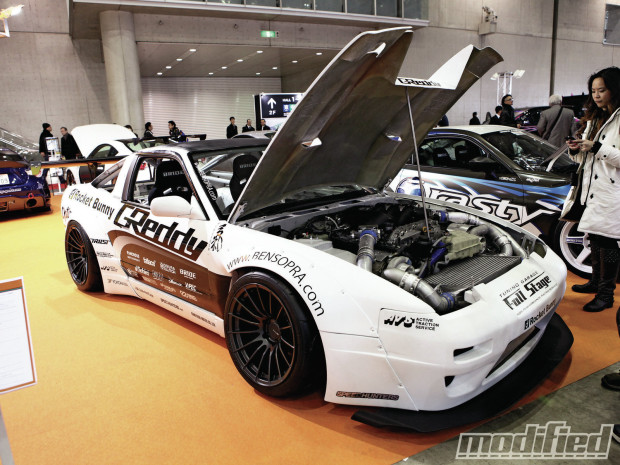 Engines: There's a host of engines that are nearly direct bolt in to choose from, the stock 240SX KA24DE is a reliable and simple little engine, but barely makes any power.
A common swap is an SR20DET, out of the S13 from Japan and elsewhere, but lack of reliability can be a problem. Other engines such as the RB series, 1JZ, 2JZ, are pretty common too. Ultimately if you want big power and awesome reliability you can't go wrong with a Chevy LS.
Also read: 5 Reasons Why Chevy LS Engines Are Awesome
Suspension: This is where most S13 owners spend their money. Coil overs can be bought for really cheap, and if you end up getting really serious with drifting you can buy a full wisefab kit for crazy amounts of steering angle.
With such a large aftermarket backing, the possibilities are endless when it comes to modifications, all the way down to gauge colors. I mean seriously, need an exhaust manifold and downpipe for your single turbo converted 1JZ swapped S13? Consider it done.
That's how insanely immense the S13 aftermarket is.
Summary
I think the reason that the Nissan S13 240SX is so popular for drifting is mostly because of its chassis dynamics. It's a super easy car to learn to drift on because of its wheelbase, size, and balance. It also helps that they're dirt cheap to buy, and modify.
Check out: How to Import a Car to the US
The S13 chassis also used by some of the most elite drifters in the world, it's a championship winning chassis, which furthers proves that the S13 chassis is perfect for drifting.